A breakthrough in dolphin/human interaction.
The Dolphins Experience trip
Using specific approach techniques and relying on the dolphin's amazing intelligence and inherent interest in humans, we now are able to share with YOU open water, in-water dolphin experience. You are connected safely to the boat at all times and in the water right next to the dolphins as they glide from bow to bow- in front of, below, and next to you! The best thing is that this all takes place right here in the crystal clear waters of Madeira!
Madeira's regulations for swimming with wild dolphins are quite strict in order to preserve the subtle natural balance that these magnificent animals deserve. And we totally agree on that. It is possible to get in the water with 2 species of dolphins, Common Dolphins, and Spotted Dolphins. Due to environmental and behavioral factors, we cannot guarantee that we will always enter in water but our crew will always do everything possible for a successful trip.
The success rate of the trips is 90%. In case swimming is not possible or if we see whales or dolphins we cannot swim with, you will be refunded the difference between the price of the observation trip and the swimming trip.
HIGHLIGHTS
99% chance of spotting whales or dolphins
Tour in the area with the highest concentration of cetacean of Madeira
Learn about marine mammals
Get your best photographs of these magnificent creatures
Admire the bright green island landscape from the water
A Professional Guide will always brief and debrief the experience
Included: Life jacket, Wetsuit, mask and snorkel and Certified guide
Preparation on Land
Briefing : Introduction to dolphin behaviour and biology – Safety on board and in the water
Gearing up
There are a few pieces of gear you need for swimming with the dolphins. Do not worry as we will give you all you need at no extra cost: – Mask and snorkel – Wetsuit
Boat trip
Based on the information received by our look-out on land, we will be heading to the area where the dolphins were spotted.
Swimming
Once with the dolphins, the crew will evaluate the opportunity of swimming with that particular group. Should the group turn out not to be suitable (e.g. showing boat avoidance) we will find another one.
If the Dolphins are OK, we will swim with them 4 people at a time.
In our Whale watching and Swimming with Dolphins activity, we cannot predict if it  will be only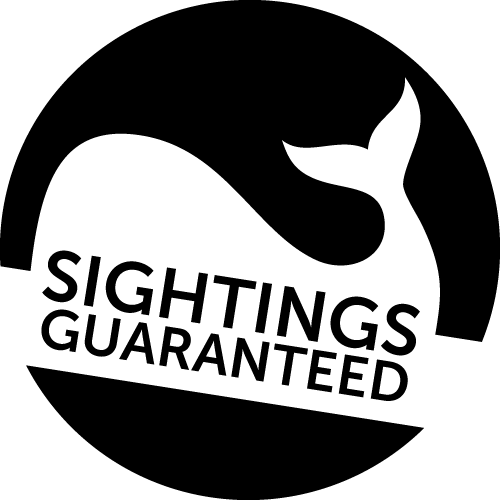 dolphins, only whales, or both on a single tour, since we work with wild animals, and their behavior is unpredictable. However, we guarantee to sight at least one dolphin or whale species! If no dolphins and no whales species are sighted during the tour which is extremely rare, the customer will have the possibility of another free tour, or in case of unavailability due to weather conditions, a free trip voucher valid 2 years.